RE: My NBA draft bargains
---
I saw a little video of him last year. I haven't been looking for much this year though.

He won't contribute this next year, and probably not for at least 2-3 years. IMO, He has twice the offensive game of PPod from what I have seen (although that isn't much). He is Shawn Bradley with more offensive range, and better hands, and not the injuries that have slowed down Big Shawn over the last few years. I think you can somewhat compare him to Jonathan Bender at 7'3" instead of 7'.

If he gains some muscle and physically develops, then he has the potential to become a Dirk-like player. If not, then he will just end up being a Bradley like player. Either way, he has potential at both ends of the court -- although I doubt he ever has a true post-up game because he is just not big/strong enough.
__________________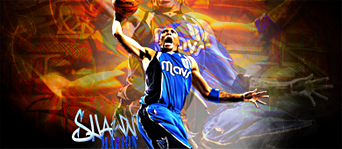 "A government big enough to give you everything you want, is strong enough to take everything you have". Gerald Ford
"Life's tough, it's even tougher if you're stupid." -John Wayne
There are four boxes to be used in defense of liberty:
soap, ballot, jury, and ammo. Please use in that order.
-Capt. Bob "Wolf" Johnson